RNT cashmere imitation series belong to the fabrics for autumn and winter, it's very popular and hot-selling all over the world. The fabric material is "rayon cotton, nylon, polyester", some also contain spandex or metallic yarn. However, the appearance and feel of the fabric is close to cashmere, so it is called imitation cashmere, but the price will be much lower than cashmere fabrics, so that customers can buy fabrics similar to cashmere at the lowest price, absolutely cheap.
Item: NWKD-6265  Rib Fabric
Composition: 47%R 29%T 22%N 2%SP
Cut Width: 158CM
Weight: 380GSM
Generally speaking, the weight is between 180gsm and 500gsm, and we can also adjust it according to customers' requirements. Regarding color, there are two dyeing processes, namely solid effect and melange effect. Mostly, black is solid effect, and other colors can also be solid effect. Melange is normally cheaper than solid, and the color is 2 tone effect. Customers will prefer to place orders of melange colors more. In addition, imitation cashmere has another figure with metallic yarn, fabric woven into gold and silver yarn, more fashionable and high-grade. Other metallic colors can also be made according to customer requirements, the general choice of silver wire, will appear more shiny fabric, dazzling.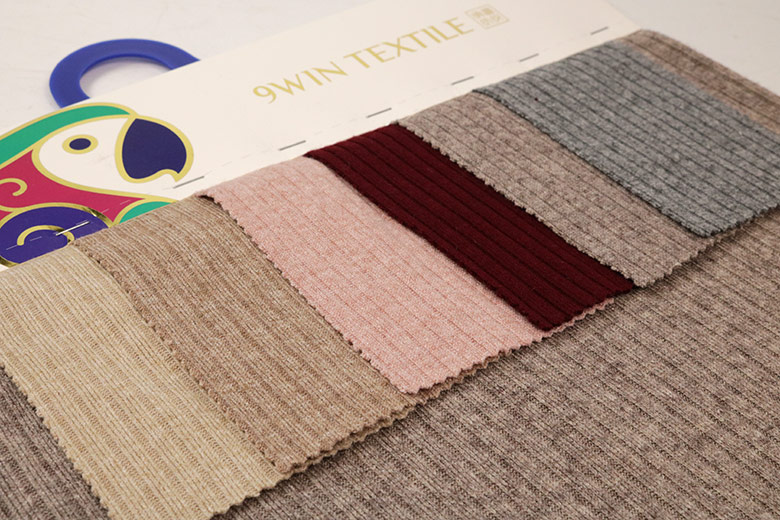 Item: NWKD-6266 Rib Fabric
Composition: 47%R 29%T 22%N 2%SP
Cut Width: 158CM
Weight: 380GSM
The fabric can be roughly divided into three styles, they are plain, rib and jacquard. Among them, plain weave is the most simple, is also the most classic. The costume design will show elegant and high-end feeling. The rib series is also hot selling fabrics, generally 2*2, 9*4 belong to the more popular items, they always can get re-order on these designs. Jacquard general weight will be higher, because the jacquard pattern is complex and changeable with relatively higher price, the jacquard fabric is normally suitable for brand customers.
Item: NWKD-6264 Metallic  Fabric
Composition: 27%T 20%N 47%R 6%M
Cut Width: 158CM
Weight: 390GSM
— View More RNT Imitation / Faux Cashmere Fabrics
---
If you want to know more details, please feel free to contact our Fabric Specialist and we will reply you quickly.